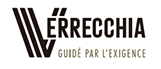 Legal Notice
PUBLISHER INFORMATION
Construction VERRECCHIA, simplified joint-stock company (SAS) with a capital of €3,037,500, 142 rue de Rivoli 75001 PARIS, Paris Trade and Companies Register Number 353.385.933, legal representative Marc Verrecchia.
Design and production: MKI Marketing Immobilier .
Illustrations
All photos, illustrations, virtual tours, and 3D plans present are provided for illustrative purposes only and are not legally binding.
Prices
The prices shown are indicative and may be modified at any moment.
(*) Examples of prices for the Villa Firenze located on Chemin de Toscane inférieur, 06360 Eze, for a 67.87 m2 apartment or house (lot B12) with a 16.77 m2 terrace. The prices shown are indicative and may be modified at any moment. Within the limit of apartment stocks available as part of the Villa Firenze project.
WEB
Director of publication: Marc Verrecchia, as president of the Verrecchia group Head of publication: Delphine Coué, as director of communication, marketing and institutional relations.
HOSTING INFORMATION
The site is hosted by OVH – simplified joint-stock company (SAS) with a capital of €10,059,500, based at 2, rue Kellermann, 59100 Roubaix – France, registered with the Trade and Companies Register of Lille under the number 424 761 419 (Telephone: +33 8 203 203 63)
INFORMATION ON OUR CONSUMER OMBUDSMAN
Construction Verrecchia is a member of the Association of Ombudsmen in real estate, accommodation, building works, and exterior and interior design trades. https://medimmoconso.fr/
POLICY ON PERSONAL DATA PROTECTION
Construction Verrecchia attaches great importance to the protection of the personal data and the privacy of its clients, as well as any person who accesses its websites.

As the body responsible for processing, Construction Verrecchia has implemented the following personal data protection policy (hereafter referred to as the "policy"). It has the following aims:

1. To explain which types of personal data concerning you that Construction Verrecchia and – where necessary – its data processors or proxies may be required to collect, and;
2. To inform you on the matter in which your personal data is processed by Construction Verrecchia, their possible partners and data processors.
3. To inform you of your rights and the means of cooperation between you and Construction Verrecchia concerning your personal data.

All the operations with your personal data are carried out in compliance with regulations in force, and particularly Regulation 2016/679 of the European Parliament and of the Council of 26th April 2016 on the protection of natural persons with regard to the processing of personal data and on the free movement of such data (hereafter referred to as the "Regulation"), and any applicable French legislation on data protection.

Without prejudice to the choices available to you hereunder and by law, you agree you have understood and accepted the present policy when accepting the general terms and conditions of use for this site.

If you do not agree with these terms, you are free to not provide your personal data. You are nonetheless warned that provision of some of this data – indicated by an asterisk on the collection forms – is required to access the Services and that by not providing this data, some functions may be impaired.
ARTICLE 1 – Definitions
The following terms, which start with a capital letter, have the following meaning:

• "Personal data", "Special categories of personal data", "Process/processing", "Data controller", "Data processor", and "Data subject" have the same meaning as in the Regulation (EU) 2016/679 of the European Parliament and of the Council of 27 April 2016 on the protection of natural persons with regard to the processing of personal data and on the free movement of such data.

• "Construction Verrecchia" refers to the company Construction Verrecchia SAS, registered with the Paris Trade and Companies Register under number 353 385 933.

• "Processing of personal data" refers to any operation or any set of operations applied to personal data or sets of personal data, whether or not carried out by automatic means, such as collection, recording, organisation, structuring, storage, adaptation or modification, extraction, consultation, usage, disclosure by transmission, dissemination or any other form of making available, alignment or combination, blocking, and erasure or destruction of data.

• "Personal data filing system" means any structured and stable set of personal data which are accessible according to specific criteria, whether centralised, decentralised or dispersed on a functional or geographical basis, and whatever the medium.

• "Partner" refers to a third party company with which the Data controller who has collected the data has entered an arrangement to make data available for processing for the benefit of this third party company; these companies may contact you with additional proposals to subscribe to promotional offers from companies not belonging to Construction Verrecchia, to the extent permitted by the Law.

• "Service" refers to a service offered by Construction Verrecchia or one of its Partners, and particularly access to a site.

• "Company" refers to the company Construction Verrecchia whose details appear in the legal notices as the publisher.

• "Site" (or "Landing page") refers to the website at the URL address that appears in the address bar that appears above.
ARTICLE 2 - Scope of application
In addition to its traditional activity as a property developer, or to achieve its objectives, Construction Verrecchia may engage in e-commerce activities.
ARTICLE 3 - Processing of personal data
Within the scope of its activity, via the site or outside of it, the data controller processes or is required to process personal data.

1. Legal basis for processing:
Processing operations:

(1) either depend on the consent of the data subject;
(2) are carried out, where necessary, for the fulfilment of a contract to which the data subject is party or in order to take pre-contractual measures at the request of the data subject
(3) or depend on the need to satisfy the legitimate interests of Construction Verrecchia, including fulfilling legal and regulatory obligations that they face.

2. Purposes

• (1) With regard to the Data subject's consent, the Personal data concerning them is processed for these purposes:
• Sending requests and promotional messages for products that are complementary and/or dissimilar to those already ordered
• Sending free information newsletters (information pertaining to the Company itself as well as dissimilar products and services)
• Sharing of information on social networks
• Transmission, free of charge or at a cost, to all entities of the Construction Verrecchia group (within the sense of article L.233 of the French Commercial Code), as well as all of its Partners for the purposes of surveying and commercial requests, by any means of communication.

The data collected and processed due to being required to fulfil a contract (or for carrying out pre-contractual measures) can equally be used for the aforementioned purposes, to which the User shall consent by ticking the box provided for this purpose.

Furthermore, Construction Verrecchia may be required to collect Personal data for other purposes, taking care to obtain the prior and detailed consent of the Data subjects.

Generally speaking, your consent is evidenced when you mark the boxes required for this purpose, during subscription to services, or later.
You can withdraw your consent at any moment. Withdrawal of consent does not have a retroactive effect on the legality of processing operations carried out on that basis prior to such withdrawal.

• (2) With regard to fulfilling a contract or taking precontractual measures taken at the request of the Data subject, the Personal data is processed for these purposes:
• Profiling the Data subject
• Evaluating the potential of entering a sales contract with the Data subject
• Adapting the offers of products or services with regard to products or services that the Data subject possesses or uses
• Communicating with the Data subject all the information that may be useful to them for the purposes of becoming familiar with the services and goods offered upon subscription or sale by Construction Verrecchia
• Identifying a property corresponding to the needs expressed by the Data subject
• Preparing the contractual documents necessary for finalising a sales operation
• Managing reviews, enquiries, and surveys
• Creating or accessing a client account
• Creating a client filing system for monitoring and fulfilling promised services or goods for delivery by Construction Verrecchia or its Data processors and third parties responsible for delivering the promised service or purchased good
• Carrying out satisfaction surveys
• Establishing the contact of a customer relationship manager
• Assisting and responding to the questions and requests of the Data subject.

No decision-making is automated.

(3) In the legitimate interests of the Data controller, Personal data shall be processed for the purposes of ensuring:
proof of transactions
fraud prevention
continued operations including the digital security of the Site
analysis of solvency
personalisation of promotional offers (through segmentation of prospects and customers, analysis of your habits and preferences on different channels (email or messages, visits to our website, etc.)).
Transmission of your data to another company in the Construction Verrecchia group or another third party company, particularly if the Data subject was – or was led to become – a client of this other company
Compilation of statistics
Its conformity with the legal and regulatory obligations regarding property, banking and financial matters (prevention of abuse or fraud arising from deviations from normal patterns, the fight against money laundering, tax fraud and the financing of terrorism), or even cooperation with administrative, judicial or tax authorities.

c) Data processed

Prior to the collection of data, the user shall be informed whether the personal data requested is mandatory or optional.
The data identified by an asterisk within the sign-up or collection form is obligatory. Without providing these, the response to requests from the Data subject shall be impossible, or a request tied to a form may not be met.
The others are optional and their non-provision will not jeopardise the delivery of promised services or responses to inquiries, although it may limit their relevance.

In particular, Construction Verrecchia is likely to collect the following data from you, either in part of full, according to the strict requirements of the case:

• Identity: surname, first name(s), address, telephone number (landline or mobile), fax number, e-mail address, date and place of birth, internal processing code allowing for client identification, passport and identity card numbers, nationality, gender, photo, IP address
• Contact details: postal address, e-mail address, telephone number (landline and mobile)
• Banking and financial details: estimated loan amounts, amount of personal contribution, bank and desired rates, loan period, loan offer(s) made by banking establishments
• Data pertaining to means of payment: proof of postal or banking identity, transaction number, cheque number, bank card number, third-party financing, etc.
• Date pertaining to your economic, financial and fiscal situation: tax number, tax status, salary and other revenue, assets value, property ownership, over-indebtedness status, loans taken out (amount and duration, name of the lender)
• Data pertaining to the business relationship: documentation requests, test requests, products and services reserved and purchased, quantity, amount, frequency, delivery address, purchase history, origin of sale (seller, representative) or order, correspondence with client and after-sales service
• Data pertaining to family situation: civil status, marital status, number of children
• Data pertaining to your education and professional status: level of education, name and address of employer, professional role, salary
• Data pertaining to subscription to newsletters: surname, first name, e-mail address
• Connection and tracking data, traffic statistics: IP address, cookies (for example, the pages visited by the user, the date and time of the visit), geographic areas, the source of traffic (lineage, site, landing pages, social networks, campaigns etc.), browsers, connection tools, date/time/length of connection or page visits, centres of interest, service providers, other information submitted by Google Analytics. You can consult the Google Analytics data protection policy by clicking HERE
• Data necessary for fulfilling Construction Verrecchia's legal and regulatory obligations, such as tackling fraud, money laundering and financial terrorism.

Health data may be requested from you and are only processed provided that (i) it is strictly necessary for specific and identified purposes which will be communicated to you, such as taking out insurance or making adjustments to property to suit your personal circumstances, and (ii) your express prior consent is obtained where required.

Through the Site, Construction Verrecchia only collects your title, name, postcode, e-mail address, telephone number, the purpose of your purchase (home or investment), and budget.

In any case, Construction Verrecchia is committed to processing all the data collected in a manner conforming to the regulations in force, and in particular to the aforementioned Regulation 2016/679.

This data or similar data, strictly necessary for the purposes set out above, may also be collected indirectly, in accordance with the arrangements laid down in Article 14 of Regulation 2016/679.

d) Recipients of data collected – provision of data to third parties

• Personal data collected on a Site or a form are intended for the site's publisher or the issuer of the form (whose details appear in the legal notices or whose identity is indicated on the collection form) and, if necessary, to official bodies and administrative or judicial authorities in cases required by the Law.

In the event that Construction Verrecchia entrusts data processing activities to Data processors, the latter shall, in particular, be chosen for their ability to provide adequate guarantees as to the implementation of appropriate technical and organisational measures, in particular in terms of reliability and security measures.

• Nonetheless, Personal data collected on a site or a form – including that where communication was required to allow for the fulfilment of a contract or the taking of pre-contractual measures and which the Data subject has consented to see used for other purposes (in particular canvassing and promotion of his or her other activities) by the same Data controller – may be, with the express and prior consent of the latter, transmitted to other entities in the group in which Construction Verrecchia is a part of, as well as their commercial Partners. This agreement can be withdrawn at any moment.

e) Transfer of data to authorities and/or public bodies

Conforming to regulations in force, data may be transmitted to the appropriate authorities upon request and particularly to public bodies, exclusively for meeting legal obligations, to judicial auxiliaries, to ministerial officers, and to agencies responsible for debt collection.

f) Transfer of data abroad

The data processed is not transferred outside of the territory of the European Union. Nevertheless, in the event that it had to be, it would only be sent to countries with a degree of protection recognised as adequate by the European Commission. By default, Construction Verrecchia shall ensure that contractual, technical and organisational measures have been taken in order to guarantee such security and protection, in particular by means of either standard contractual clauses approved by the European Commission or binding company rules.

g) Retention period

Construction Verrecchia shall retain your personal data in a secure environment for the period necessary for carrying out the purposes for which it has been processed, plus the time indicated below or, failing that, as determined by the applicable legislation or regulations, in particular with regard to civil and commercial requirements.

Some personal data may be retained for longer periods exclusively for archival purposes, in the public interest, for purposes of historic or scientific research, or for statistical purposes. In the latter cases, the data is anonymised.

Concerning the time periods:

• All data is kept for the periods of time required to comply with the obligations imposed on the Data controller by the law and regulations. In particular, invoices are held for 10 years.
• Data related to purchases of goods are held (a) in an active database for 3 years after the date of the signing of the sale, then (b) in intermediary archiving after having been either pseudonymised or archived in a specific archive database (separate from the active database, with access restricted to only those persons with an interest in knowing it because of their functions - for example, the legal department or the department responsible for managing legal warranties); intermediary archiving may be maintained until the date prescribed for contractual liability. The data may equally be retained in intermediary archiving for the duration imposed on the property developer in terms of obligations (notably guarantees), namely up to 10 years after the delivery date.
• Data tied to requests for information and not having led to a sale contract being signed are retained for the time necessary for response and for exchanges with the sales lead, increased by a maximum duration of 6 months.
• Data processed as part of surveying operations for which the Data subject has given their consent shall not be kept more than 3 years after the final contact emanating from their part; they shall be deleted upon expressing opposition to their use.

h) Social networks

If you have a social network account and access the site or application without previously registering for the services, the publisher may receive information from said social media networks in order to facilitate the creation of an account on the site or the application.

When you use a service via a social network, you shall permit the publisher to access certain information that you have provided to the social network, such as your username, your surname and first name, your profile picture, and your data pertaining to the use of this service. By accessing a service via a social network, you shall authorise the publisher to collect, stock, and use all information that you have agreed on the social network to provide the publisher.
ARTICLE 4 – Rights of the Data subject
In accordance with Regulation (EU) 2016/679 on the protection of personal data, the data subjects have the right to demand the Data controller access to the Personal data concerning them, the correction or deleting of it (right to forget), or a limitation on the processing of their personal data and the right to the portability of such data.
For grounds relating to their particular situations, they may equally be opposed to the processing of data concerning them.
For data not indicated as being obligatory and that the Data subject has consented to give and have processed, they have the right to withdraw their consent at any instant; withdrawal of consent does not have a retroactive effect on the legality of processing operations carried out on that basis prior to such withdrawal. They have the same right and under the same conditions as data indicated as compulsory at the time of collection and that they have authorised the Data controller to process for purposes other than the fulfilment of the contract to which they are party or to carry out pre-contractual measures taken at their request. They shall remain processed, depending on the case, only for purposes of fulfilment the contract or in other cases required or authorised by the law.
The Data subjects may equally have additional rights under by the national law to which they are subject, such as the establishment of guidelines for the storage, deletion and disclosure of Personal data after death. With regard to cold calling, they have a specific right of opposition by registering with the BLOCTEL list. They equally have the right to be opposed to any commercial canvassing by registering with the ROBINSON list, within the scope thereof.
To exercise the rights to which you are entitled, you can contact the customer service department of the company whom you originally dealt with:
• by e-mail at donneespersonnelles@verrecchia.com, or
• by post, addressed to Construction Verrecchia, 1 rue d'Aurion – 93110 Rosny-sous-Bois.

To enable your request to be quickly processed, you should indicate your surnames, first names, addresses and any other references allowing us to facilitate your identification and attach any valid proof of your identity (in particular your national identity card, passport, residency card; it is imperative that it should be sent by mail for reasons of security).

You equally have the right to file a complaint with the CNIL (National Commission for Information and Liberties, www.cnil.fr), or the supervisory authority of your place of residence.
ARTICLE 5 – Security measures
With consideration of technological development, costs of implementation, the nature of data requiring protection, as well as the risks for people's rights and liberties, Construction Verrecchia shall implement all appropriate technical and organisational measures to ensure the confidentiality, integrity, availability and resilience of the personal data collected and processed, as well as an appropriate level of security for the risk.

In particular, to guarantee your security and to assure better confidentiality, the site uses the encryption protocol SSL (Secure Socket Layer).

When supplying information, all information entered in the different forms are automatically encrypted. The SSL encryption system enables information to be automatically encrypted before its transmission across the network.
ARTICLE 6 - User identification
Generic or specific user identification may be communicated to you by the company. This is strictly personal and confidential to you; you are the only master of it and are solely responsible for how it may be used. You should never divulge it with a third party. It can provide you with access to the personal data concerning yourself. Any access to this data after communication of these identifiers is to be considered, until proof to the contrary, to be made by you or with your consent. Construction Verrecchia cannot be held responsible for use of this identification by a third party. In the event of loss, misappropriation, or non-authorised use of this user identification, you should immediately inform Construction Verrecchia who can then be able to prevent access to your personal data until new identification is provided for you.
ARTICLE 7 - Modifications to the data protection policy
In the event of a modification to the present policy, or if legal or regulatory texts require it, the modified version shall be published on our sites and shall be effective as of its publication.

Consequently, we invite you to refer to it each time you visit in order to be made aware of the latest version, which is permanently available on our websites.